Words by @WhiskyPilgrim
I promise we didn't deliberately just pick the booziest one.
So there we are in Milroy's, doing our best sardine-tin impersonation in their upstairs tasting room. To my left, @The_Bourbonator is using a mixture of trickery and bullying to convince @london_liquor that Sample Four is the best. To my right, Simo, commander-in-chief at Milroy's, is shouting "drown it in water!" (The bourbon, not @london_liquor, and that's actually a good tip for seeing if a cask is flawed or not.) In front of me, speckling the table like spots on a pubescent teenager's face, 28 Glencairns at varying degrees of emptiness.
Tableaux like this have probably framed most of the moments on which the world has turned. I imagine Apple being founded under similar circumstances. You know they were at it at Yalta. Doubtless when King John signed Magna Carta there was some baron or other in the background bellowing for the head of whoever put water in his mead.
This particular moment possibly won't be studied by 11 year olds in 800 years time. But it nonetheless represents the most significant step for the British Bourbon Society since its founding, almost a year ago. The achievement, in fact, of the society's primary raison d'être. (Pardon my French.) The selection of the first BBS cask of bourbon.
Huge amounts of time and effort went towards this culmination. (None, I hasten to add, from me.) Through the Society's growing network of contacts, feelers had been put out to look into acquiring a cask for some time, and Paul Hletko, the man behind F.E.W spirits, was generous enough to offer samples. Which brings us back to Milroy's, and the small bottles of cask strength bourbon around which we were so eagerly gathered.
But first, a brief look at F.E.W itself. The distillery opened in 2011 in Evanston, Illinois, just North of Chicago. That's more or less the heart of the historical Temperance movement, but Paul insists that the name F.E.W has nothing to do with the initials of Frances Elizabeth Willard; a local to the area and a leading Temperance figure.
F.E.W is a central part of the revolution of whiskey distilleries springing up across America. In fact Paul is now Board President of the American Craft Spirits Association. Brand ambassador John, who was talking us through the company and samples, emphasised the grain-to-glass nature of the distillery. Everything happens on site; small-scale, labour-of-love stuff. From the individual yeast strains (Belgian beer for the bourbon, red wine for other products) to the ever-so-slightly wider cut, everything seems geared towards making a product with a unique and idiosyncratic flavour. Which has to be applauded. And which makes it, in my opinion, a perfect first whiskey for the BBS to bottle.
John took us through the flagship bourbon and a couple of ryes whilst we waited for the last couple of tasters to arrive. (I know – who turns up late for something like this?) At 8pm we got through to Paul himself via skype to offer our thanks and so that he could talk us though the barrel selection.
And then the main event. @MCRBourbon was standing by somewhere in the North West, samples prepped and ready to go, and without further ado we cracked on ourselves. Initially the plan had been to scribble some scores for each and tot them up at the end, but in the event it felt simpler and more natural to just talk through our thoughts and hopefully reach some consensus.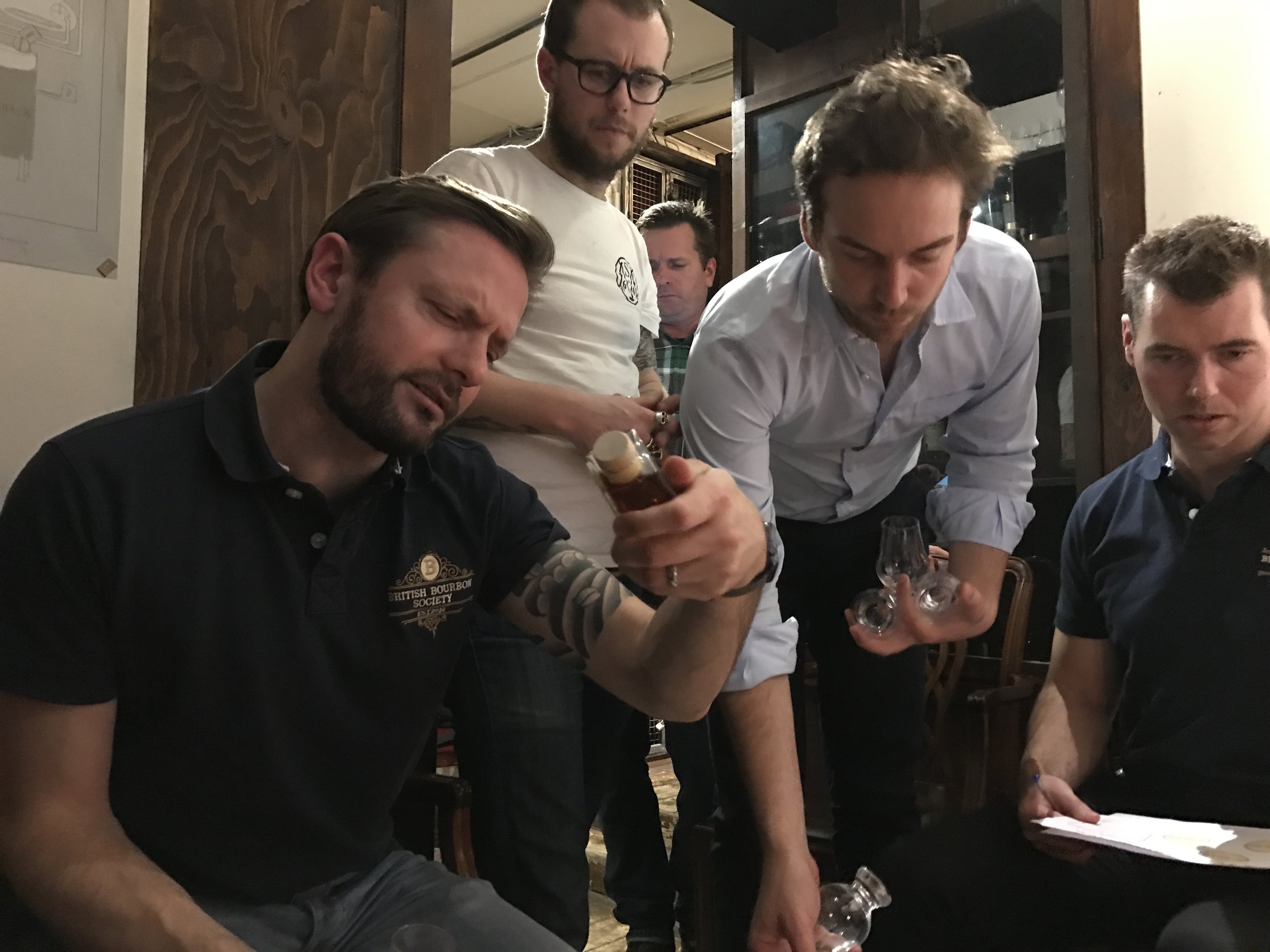 So how were they?
Sample One, at 61% ABV, felt a little unready. Intense; no slouch in jumping out of the glass, but the cereals felt a little farmyardy and over-prominent, the spirit a little meaty. It's still an adolescent – needs a bit more time in the barrel to knit itself together.
Sample Two we loved at first sniff. 61.7% ABV, but of all four samples, this one took the alcohol best in its stride. Sweet, balanced and full of lovely caramels and sugars, just edging towards something floral. Cask strength on its best behaviour; heat really dialled back and controlled by flavour and body. Crowd-pleasing in the sense of being a high-proof bourbon you could pour to a newcomer, confident it wouldn't be met with a wince.
Alcohol jumped upwards for the next one – to 64.2% - and it showed. Sample Three was quite enigmatic. Lots of floral character, with some of Sample One's cereals returning too. There was certainly a lot to like – but nothing defining really screamed out "pick me, pick me." Whilst I know I preferred it to Sample One, it still feels the least memorable of the tasting.
And then there was Sample Four. Biggest of the lot, at 64.5%, but more significantly the biggest by far on flavour. The booze did really wallop you on the nose to begin with, but that died back after a moment or two, after which wonderful things happened. By far the most rye-forward; real firmness and definition of spicy grain, but then layers and layers of deep dark chocolate and caramel and oak. An absolute stunner.
When it came to voting there was an overwhelming favourite, and no prizes for guessing which. Definite honourable mention to Sample Two – shame we're not taking both! – but all but one of us voted Sample Four as our pick. The first British Bourbon Society Barrel had been chosen.
There's more work to do. Label designs are flying back and forth, then of course bottling and the small matter of shipping those bottles to the UK needs to happen. But the wheels are in motion. Pretty soon 150 or so lucky people will be charging their Glencairns with BBS-label F.E.W. Cask strength, naturally. We'll keep you updated.
And hopefully this is just the beginning. After the tasting a lot of the talk surrounded "which distillery next?" ... "who would you most want a barrel from?" ... "there's still some of that sample left – can I take it?" (That last one was me.) At any rate, it seems certain that at some point in the unseen but imminent future we'll be back at Milroy's in pursuit of BBS Bourbon the Second.
in the meantime, it's fair to say that we're pretty chuffed with Number One. Hopefully you will be too. Like I say, we didn't pick the booziest on purpose. But it's nice when things work out.
Massive thanks to Paul Hletko and the whole F.E.W team. Also to John Young, Michael Vachon and James Goggin.
@britishbourbonsociety @whiskybunker @london_liquor @barrelproofandy @the_bourbonator @mcrbourbon @edkinguk