Introduction
'The best whiskey maker the world never knew' is the rather bold moniker bestowed with an air of surety upon the subject of a relatively new American whiskey brand hailing from Lynchburg, Tennessee. It would also suggest that those behind it are privy to information we don't have and uncovered something of historical importance that demands your attention.
It was 6 months ago when the British Bourbon Society first received a call from the Uncle Nearest team and with it an invitation to meet with their founder and Chief Historian, Fawn Weaver over breakfast during a scheduled visit to London. Admittedly, at this point very little was known by any of us about the brand, the back story or the people behind it but something was pulling at us to learn more. Fawn proceeded to bring the story to life with an informative and passionate delivery that stuck with us long after we said our goodbyes. We knew right then that this wasn't just another name plucked from historical obscurity with a tentative link to whiskey production. This story had heart, substance, relevance and value not just to those that have uncovered it, but to the family and descendants of whom it relates. It was a story that needed to be told, we all needed to hear it, Fawn Weaver is the one to tell it.
In her own words Fawn is the 'keeper of the story' of Nathan 'Uncle Nearest' Green, entrusted by his descendants to shine a light on his legacy and is a responsibility she takes very seriously. Her inspiration took root in a 2016 article written by Clay Risen for the New York Times for Black History Month which does a great job at explaining who Nathan Green was through his involvement with whiskey distilling and Jack Daniels. This article was the first time the story of Nathan Green was mentioned publicly since a 1967 biography titled 'Jack Daniels Legacy' by Ben A. Green.
Fawn subsequently took it upon herself to build upon the momentum of that article to uncover the unequivocal truth and consign it to the archives of historical fact for past generations to be honoured and future generations to be proud of.
In the 2 years since embarking on her journey, Fawn has achieved remarkable things through hard work and dogged determination, painstakingly reviewing mountains of documentation acquired from public records, assisted by a dedicated team of super sleuths. Their endeavours eventually led to Jack Daniels publicly acknowledging the truth in their own publications, marketing material, distillery tours and now the visitors centre that commemorates Nathan Green. He is now not only accepted as being an integral part of the Jack Daniels legacy, but heralded for his importance within American black history and with that, cementing his title, albeit humbly as 'the best whiskey maker the world never knew'.
The British Bourbon Society continued to correspond with the Uncle Nearest team over the coming months, collaborating on tastings in London and Manchester and were later afforded the unique opportunity to select the very first single barrel release from the brand. The group assembled in London and selected out of 6 cask samples, an 11 year old 112.9 proof Tennessee whiskey with all 118 bottles selling out in record time. Not only is this some of the best Tennessee whiskey we have ever had the pleasure to taste, the group were also given a unique label incorporating the British Bourbon Society logo and amending the standard 'Uncle Nearest' print to 'Nathan Green', commemorating the given name of Uncle Nearest exclusively for this bottling and future British Bourbon Society selections.
With our transatlantic relationship flourishing, there came another call from Fawn herself extending an invitation to visit Tennessee and join the team for the 'Founders Tour' in Lynchburg, Tennessee. After at least 4 whole pico-seconds of deliberation, plans were made and our bags were packed. It was agreed between us that we would grab the opportunity with both hands and spend a couple of days in Nashville first, 'acclimatising' and exploring the Music City with as much as we could cram in 48 hours.
We had a good idea of what our agenda should entail with whiskey, beer, BBQ and 'honky-tonk' (though none of us really knew what that was) underpinning the framework for our highbrow itinerary.
This is how it went down y'all…….
Day 1 - Friday 9th of November 2018

Words by Ed Rosie

Before I get into the nitty gritty of our trip to Nashville, I want to start by saying what an absolute privilege it was to be invited to visit America courtesy of our friends at Uncle Nearest.

I appreciate I probably sound like a bit of broken record when I say this, but when we started the British Bourbon Society we dreamt of one day venturing across the pond just so we could gallivant around distilleries, taking in the sights of the local area and generally just having ourselves an amazing time. This trip was that dream with the opportunities we were afforded, the food we devoured, the whiskies we sampled and the people we met along the way making for a truly unforgettable experience.

Incidentally, as I write this incredibly overdue blog post I'm sipping on a glass of Jack Daniel's Master Distillers Series No. 3, (Lem Tolley release). In this moment I can't think of a more fitting bottle to imbibe with, other than perhaps the BBS Uncle Nearest single barrel. Reason being, this bottle was gifted to each of us by Fawn and Keith Weaver whilst we were guests of theirs at Tolley House – Lem's old residence! I love how whisky can invoke memories like that.

Day 1 - 9th of November 2018.

I arrived at Heathrow airport for 10:30am. I know this now because I just looked back through the photos on my phone where I captured a stupid photo of my incredibly excited face for posterity.

I located Andrew Watson so that like 'proper grown men' we could check our bags in together. At this point he'd already pressed the panic button as he feared an overweight baggage situation and was hopeful I could assist if he exceeded the already very generous quota. Thankfully he was right on the nose, 23.00kg and able to pass through without issue. Now feels like the right time to say that Watson had an incredible number of samples with him. If you've ever seen the Netflix documentary, 'Icarus' it was like a mobile version of the doping lab that the Russian's were operating at the Olympics. Hundreds and thousands of samples. Perhaps millions. There were however no complaints from me.

We sailed through security. In fact, we didn't, I did, but Watson got the full examination and much to both our surprise the security officer couldn't give a hoot about 10 million samples of whiskey, they were in a clear see-through bag after all. Like two very well-travelled English gentlemen we headed straight to the great British institution and obligatory pit stop, Weatherspoon's, where we proceeded to get stuck in to the usual junk and waited on the rest of the boys. Once Ed King, Chris Neville and Mark Latimour had joined us we now had around 50 million samples between us and attempt to disguise the sound of rattling glass in our hand luggage with packets of Haribo.

After lining our stomachs, we headed to the plane where en-route Mark excitedly told us how he'd turned down the opportunity for an upgrade just so he could sit with us in 'cattle class' and join in with the in-flight banter. Wise choice indeed Mark and appreciate the personal sacrifice.

Now, picture this: You're in a really good whiskey bar with a bunch of your mates and you've spotted some absolute belters from the top shelf and are now racking up a massive bill. This was that situation, however there was no eye-watering bill at the end of it and the bar was in economy class at 35,000 feet. We were passing around some ridiculous samples of whiskey and getting excited about what was to come. Then, like proper old men… we fell asleep.

After landing in Nashville we jumped in an Uber and headed to our Air B&B. This is a good time to explain how awesome Andrew Watson had been at organising this whole trip, for weeks leading up to us arriving he'd been messaging his contacts to arrange a few meet ups with local bourbon enthusiasts who we would spend time with and show us the real meaning of 'Southern hospitality'. Top work Watson, all your efforts were greatly appreciated.

A friend of Watson's, Jared, arrived at the house to pick us up shortly we arrived as Watson and I had been invited to visit a pretty special place, but I'll get onto that in a bit. Jared is an absolute legend by the way, not only is he the founder and skilled craftsmen at 'BootHill Blades' (check them out), but he's also an avid bourbon fan and all-round lovely bloke. In the weeks leading up to the visit a few of us had been chatting on Instagram and Andrew and I had managed to get an invite to @abushong's home bar, while the rest of the guys went off to get watered elsewhere. We jumped in the pickup truck to head to @abushong's home, (who we had never met) with our knife making friend Jared, (who we had never met). Sticklers for safety, we put on our seatbelts and drove into the night.

Now, I'll do my best to explain this, but it will never, ever, ever do it justice, so just trust me when I say this was an outrageously cool experience.

We pulled up at @abushong's place, a palatial home in a secluded suburban neighbourhood and were warmly greeted by him and his wife. After a short chat we were led up the stairs to a room in the house that I'm sure for a regular family would have been simply a bedroom, however in this instance it was the home bar (bedroom) of my dreams. My jaw hit the floor when we walked in. Whilst I was resetting my jaw I looked to Andrew and saw his jaw was also completely dislodged and that is when I knew we were somewhere truly special. I'd seen snippets of this place on Instagram and figured it was in an actual bar in some up-market swanky part of a city… never in my life did I imagine it to basically be a converted bedroom that housed some of the best bottles of American whiskey ever to grace the earth. Honestly, I don't say that lightly, there were bottles in here that I didn't ever know existed. In fact, nobody knew they existed because @abushong had commissioned them so unless he'd told you about the 139 bottles of Willett he took delivery of that were specially bottled to celebrate the birth of his daughter, chances are you had no idea.

Speaking of @abushong, I must say, what an absolute gent, he's is another one of those ridiculously kind and generous people that the whiskey scene has a habit of introducing you to. We'd only ever exchanged a few messages on Instagram before, but he welcomed Andrew and I like a good old friend and was incredibly generous with his collection to the point where I found myself apologising repeatedly for the drinks he was offering me and I obliging with.

I could list off the bottles we tried, but words on a page will never do it justice so check out these photos and videos, they do a way better job showing off the collection.

After a very pleasant couple of hours with Jared and @abushong we were sent packing with a couple of beers and a very handy electrolyte drink to aid the sore head that was sure to follow in the morning. We headed back into town and met the rest of the group at a local restaurant and bar for some food before turning in for the night.

What an intro to Nashville.
Words by Andrew Watson
Saturday 10th November
It's the first full day of our Tennessee odyssey and I'm psyched. You may have (or will) read in this blog post about how I quite like to organise a few things. Don't believe everything you read…… I LOVE to organise a LOT of things because quite frankly, it's not every day you find yourself this far from home with an opportunity to soak up this much Americana in 4 days. The USA is a big part of our lives through our Bourbon endeavours and as such, I have a penchant for colloquial delights, viewed through a very British lens of fear and excitement in equal measures.
'Get in the car', I barked at Mark and Chris that first morning, actually being British, it was probably more like 'chaps, your transportation awaits' as we bundled into our waiting Uber to take us to 'Biscuit Love Gulch'. That's the actual name of the restaurant by the way and not some quirky moniker for a prog-rock band. I found this place using my acutely honed skills of completing Google and badgering locals to affirm that this will be the first stop on our epicurean adventure.
Admittedly, I had not anticipated either the weather or the popularity of this establishment in my learned selection when we pulled up outside to join a 200 strong line of people equally keen to brave the sub-zero conditions for breakfast. I wasn't going anywhere though, what a line like this tells me is that I was validated and it's the place to be, we may freeze, we might not make it to the end, but we can rest assured that we gave life a damn good go. Besides, Jared had reliably informed me to order 'off menu' which is a locals way of saying, show off to those around you that you've done your research and can utter words met by gasps for an item so exclusive, it can't be ordered by mere mortals.
'I'll have the Dirty Princess' I said, half expecting Jared to have wound me up and a slap was incoming from the waitress. 'Certainly Sir' was the response, without a bat of an eyelid to my thankful disappointment. The 'Dirty Princess' if you ever make it there is a savoury scone (biscuit) with a piece of buttermilk fried chicken soaked in hot sauce with white gravy and a fried egg on top. It wasn't just good, it was transcendental good. I wanted to cry for everyone that hadn't had it. In fact, I'll be strong for you, but you should cry, seriously.
A brisk, 3 mile walk into the heart of the music city followed our gluttonous beginnings and replenished calorie tokens for the day ahead. We were heading to the Johnny Cash museum, it seemed like as good a place as any to start our intake of city culture. The trouble with good ideas are that everyone has them and this place was filled to the brim with tourists eager to tick a box when in reality, all they really want to do wasparty with a Stetson on in one of the many, many joints on Music Row. We couldn't though, it was only 11am and our breakfast hadn't digested yet. Nobody told the stag and hen do's though, they were spilling out of every door, live country rock blaring out with a plastic cup of Budweiser in hand. This is a fun place to go. Nash-Vegas is what they call it now apparently and I can see why.
Whilst the attentions of the visiting party posse's were focused on their plastic cups, one hand aloft with consistent-enough-to-be-annoyingoutbursts of 'whoo' and 'yeah' reverberating around the streets, we turned our attentions to an unconventional mode of transport. London has 'Boris' bikes, big hulking great contraptions designed to be resilient and ugly in equal measures. They're a great idea and fun to ride, but you don't feel any semblance of cool on one. Nashville has gone one better, they have electric scooters strewn everywhere and operated by a company called 'Bird'. We had no destination but we knew we needed to hire them. These are the definition of cool….surely?
After a few technical difficulties, we were up and running, somehow foiling their app requirement for US residents and away we went! Honestly, it was some of the best fun I've had in ages, racing (these things fly) down the road towards the only logical place we could think of, 'Bearded Iris' brewery. I couldn't help contemplate that at that moment, I was involved in possibly the most hipster situation I have ever been a part of. 5 guys, on electric scooters (one beard), travelling to a craft brewery on electric scooters. Our carbon conscience was clear, unlike our judgement as my scooter ran out of battery half way there, most likely due to the half hour of childlike satisfaction I got from scooting around a car park. Nevertheless, I managed to stutter the rest of the way feeling less cool and more pathetic to finally park outside with the others safe in the knowledge that we would be getting an Uber back.
Bearded Iris brewery is situated on an innocuous trading estate (aren't they all?) nestled opposite disused train tracks presumably to add that extra edge of 'derelict' stereotypical of the craft scene. The beer was fresh and delicious, and we sipped on hazy, juicy IPA's with the sun on our faces contemplating our next move. I had arranged for us to meet up with a local bourbon buddy named Clay, again who I'd never actually met before but felt completely comfortable (and presumably he also) to spend a Saturday night with. I wanted Barbecue (sorry Chris) and Tennessee has some of the best in the world. I wasn't going to pass up on this carnivorous opportunity to get stuck into slow smoked meats! Martin's was the place to go according to Clay, assuring us in his Southern drawl when we met up, rushing through the pleasantries over a drink at a nearby bar and went in. Martin's is huge and easy to see why it's a BBQ mecca round these parts. It's the kind of scene you'd want really, wooden tables filled with clientele gorging themselves silly with ribs, brisket, burnt ends and whatever else is possible to roast falling out of smiling, sauce smothered faces. This was my happy place.
Clay ordered for us on the advice of our sharp-tongued, quip-heavy waiter, disappointing Chris once again with a steaming plate of pencil shavings and air (even the beans had meat in). I felt sorry for Chris and the moral dilemma he was in as a practicing vegetarian, watching us delight in roasted bovine while he tucked into his pencil shavings. 'Well, at least he's got a beer in front of him', I thought as I pulled apart the remnants of delicious meat clinging to my pork rib. On our way out, we were taken to where the magic happens and shown the industrial sized smokers, again piling further misery on poor Chris. We settled up and left, thankful to be walking again to readjust our waistbands for the 'honky tonk' that was about to follow. Music Row by this time was absolutely heaving but Clay knew where to go. Robert's Western World was the place to hear the best authentic live music so we piled in and were surprised to find a table by the bar that became our home for the next 3 hours. It was enormous fun but some of us by this time were feeling the strain of the preceding shenanigans, coupled with jet lag, so said their goodbyes and went home. I stayed out for a few more hours with Clay, Ed King and Chris Neville listening to country rock cover bands until our bodies could take no more. We were done, we'd hit our limit, country road, take me home…..via Princes chicken wings.
You may ask how we could even contemplate eating after our smorgasbord of food not long prior? I'll refer you to my original comment about fitting as much in 4 days as possible, this was THE best place to get hot chicken in Nashville, I was going. Our 3am Uber driver took us, bleary-eyed into an area of Nashville you would only ever consider going if your mind wasn't firing on all cylinders. 'It ain't no country club', Clay said as he shared the fact that 3 people had been shot there a month before. I felt safe in the company of a local though and knew there was a risk going to almost anywhere nowadays. Our Uber was followed by the police for a few blocks too, presumably to escort these 'fish out of water' tourists and not because our driver was suspected of anything.
Princes was as basic as they come, a diner style layout with booths and a Perspex window at the back to order, again presumably to considerately prevent sauce spatter on their customers and not to deflect stray bullets. We ordered our meals from the jovial ladies cooking up a storm and chowed down on the spiciest, most delicious fired chicken I've ever had. The journey was worth it.
Bed finally beckoned and we said our goodbyes to Clay for his incredible hospitality. I'd spoken to Clay a lot through bourbon circles for the last 2 years but this was the first time we had met in person. He, and everyone else we met are testament to this community and the incredible people it curates. This is why I love bourbon.


Sunday 11th November:
Words by Mark Latimour
Whether by a stroke of pure sensible luck or genius, Mr Rosie and I had headed home early from the previous night's festivities. In all honesty it was probably just because the jet lag had got to us. Either way it worked out in our favour as we were up and about before the others. This wasn't surprising as we think we heard them make it back to the AirBnB around 3:30am. The early start enabled us to take advantage of Uber Eats for an early morning McDonald's breakfast – not bad given that the next breakfast would be hours away once the others had emerged from their slumber.
After Ed and I had sorted ourselves out it occurred to us we ought to check on Chris who was sleeping downstairs – I can't recall now if it was to avoid the snoring or to protect us from it. As we went downstairs to check on Chris we heard the slow movement towards the bathroom of someone with a clear hangover. "Are you alright mate?" …. Then out of the bathroom we heard a sound that, to be honest, was sort of hard to place. It was clearly something leaving the body, rapidly, but lord only knows by what means. The combination of jet lag, Tennessee food not designed for vegans and a late night out had clearly hit Chris.
Food was obviously high on the agenda and Andrew thought we could probably visit one of his bourbon friends on the way to Lynchburg. There was some consternation about how we would get there – an 80 mile journey from Nashville. The combined space taken up by 5 lads with luggage was too much for a single taxi – even a maxi-Uber could be overwhelmed. In addition, there are no Ubers in Lynchburg so getting back could be an issue. We left this dilemma in Rosie and Watson's capable hands and turned our minds to our stomachs.
The nearest restaurant was something called "Waffle House" (what we subsequently learned is a bit of an institution for the 'worse for wear' of the South due to its 24 hour diner operation). The Waffle House was about a mile and half away and like good Brits, we thought we best walk it to get some fresh air. What we hadn't factored in is that Americans don't walk – which means they don't have pavements. After about 200 yards the pavement ran out and we found ourselves walking on the shoulder-less roads getting beeped at by passing cars. We were clearly fish out of water.
Waffle House turned out to be a strategic choice – not because the food was good – it was average – but because the wait stuff immediately clocked that Chris was not living his best life that day and decided to harass him. There's something charming and yet thoroughly annoying about how friendly the Southerners can be when you just want to have a quiet meal to contemplate the night before and the day after. We survived the meal….not without having to feign interest in some of the local chat.
Now you might think that jet lag and a lack of sleep might prevent certain activities: operating heavy machinery, driving a vehicle and shooting. It didn't – Chris and I jumped in an Uber and headed to the shooting range whilst Rosie, King and Watson headed off to mooch around the Grand 'ol Opry. The firing range was brilliant fun and without any fuss Chris and I were able to rent 3 9mm pistols and purchase 250 rounds for an hour or so of fun. By the time we had finished Watson had arranged our afternoon's activities, a visit to one of his bourbon friends' houses on the way to Lynchburg. Chris and I jumped in an Uber to meet them there.
@graytful19 and his wife warmly welcomed us into their home. Watson knew him from a bourbon group and he had a bottle of PVW15 and WLW17 that he wanted to open with us. It was an incredibly kind gesture – but the kindness didn't end there. He then opened up his entire stash to us to try as we wanted. Some rare Four Roses store picks including a Veterans Day pick, Bookers 25th Anniversary and the rarest of the rare: California Gold. The California Gold was actually sealed and Rosie said to @graytful19 that we couldn't try an unopened bottle. Mark quickly removed the wax and said "Its open now". After a few hours and some of the finest whiskies around we had to depart as our ride to Lynchburg was here. Fawn Weaver had arranged for two of the Uncle Nearest Brand Ambassadors to pick us up and to bring us to Lynchburg.
Having been well hydrated through the hospitality of @graytful19, we were grateful when Richie and Stephen stopped off at a Mexican restaurant on the trip down. There we ate suitably large dishes of Mexican food accompanied by, in Watson and my case, the largest Michelada beer I've ever seen (basically a Bloody Mary made with beer) – they must have been about 1 litre each! I slept the rest of the way down to Lynchburg and didn't wake until we arrived at Tolley House.
Tolley House is the bed and breakfast owned by Fawn and Keith Weaver as part of the Uncle Nearest empire. It's a fantastic old building about two miles outside of the centre of Lynchburg and whilst restoration work continues, it was sufficiently ready for us to stay there. Well, three of us. Ed King and I would need to stay in the centre of Lynchburg. That evening we were met by Fawn and Keith and we shared a few drinks and started to look at some of the historical records that Fawn found whilst researching the Nathan Green story. One of the most fascinating finds was found on their own property, an original barrel stencil for "Jack Daniel" whiskey – before the apostrophe "s" was added.
After a really engaging evening looking through some of the letters, books and records that Fawn had found, we retired to our rooms ready for the Uncle Nearest Founder's tour that would kick off the next morning with a trip to the George Dickel "Cascade Hollow" Distillery.
Monday 12 November: The Founders Tour (Part 1)
Words by Mark Latimour
Well, it was raining. Not just a little, it was pouring down. Ed King and I awoke and showered, ready for our 8:30am pickup in order to startthe day with a 9:30am tour of the George Dickel Distillery. Unfortunately the rain put a stop to that because the tour had a lot of outdoor components. Instead we were able to relax and we would instead begin at 11am with a trip to the Lynchburg cemetery and then lunch at thefabled Miss Mary BoBo's house.
Lynchburg Cemetery sits on the hill in the centre of town and is home to the graves of some of the most famous names in Tennessee distilling – Jack Daniel, Dan Call etc. Fawn began the tour by showing us the graves of Lynchburg's most famous residents. Poignantly. we then descended the hill and around the corner to the "coloured peoples" cemetery (as it was at the time). This is the site of the memorial that Fawn has had installed for Nathan "Nearest" Green. The memorial isn't his actual grave – no one knows where it is – but it's a fitting tribute to someone who has such an important place in the town's history.
We headed into the centre of town to Miss Mary BoBo's House. Our guide, former Jack Daniels Head of Operations and now Uncle Nearest distiller, Sherrie Moore pointed out that her family used to own and live there with the gift shop replacing her old bedroom! Miss Mary BoBo's is a 'Lynchburg institution' which is a term used often though never lightly. Guests sit in an ornate dining room with our groupsufficiently large enough to warrant our own room rather than sharing with others. We were appointed a "host" who talks you through theculinary smorgasbord waiting for you to devour accompanied by a historical rhetoric. Having Sherrie with us meant that the host was relieved of a lot of her duties as Sherrie was pretty familiar with the house. The meal was amazing, fried chicken, fried okra, mac & cheese, meatloaf, beans. Sensational stuff, well, except for Chris, who is vegetarian and for whom the South does not cater well (the beans had meat in). We were all ready to explode when they brought out the amazing fudge tart. Needless to say we rolled rather than skipped out of Miss Mary BoBo's and headed out to the Dan Call farm.
The Dan Call farm was bought by Fawn when she learned (through Sherrie) it was on the market and is the original home of Jack Daniels. Dan was a preacher who distilled whiskey with the help of his slave, Nathan Green. Jack Daniel went into partnership with Dan and Nathan taught Jack how to distil. Eventually the preaching would mean Dan couldn't continue to distil, so Jack and Nathan took over the operation. The Dan Call farm is the site of the original spring that the water used in Jack Daniels was taken from and is set on some wonderful land on the outskirts of Lynchburg. We were greeted at the farm by the working dogs who proceeded to herd us like sheep around the place. The farm building is being restored by Fawn into a "members club" for those involved with Uncle Nearest and their whiskey industry brethren. The work is far from complete but is encouraging to see some of the amazing features taking shape including the original peeling wallpaper, protected by Perspex that reveals drawings that Dan and Jack did on the walls. We then toured the grounds of the farm and walked….okay drove – this is America after all, towards the site of the original 'Old No. 7' distillery. Situated in the rolling hills of the farm the site is in a fantastic spot – nothing remains of the structure, but it's clear from the foundations and spring nearby what was here before. Apparently the spot is well known enough with collectors that they would sneak onto the farm and steal parts of pipe from the original distillery spring. Fawn has installed security measures to preserve the history of the place.
Following the educational tour of the Dan Call farm we mounted up….okay, got in Sherrie's minivan and drove towards the Sand Creek Farm – the home of the Uncle Nearest Distillery. The Sand Creek Farm was bought by Fawn to be the site of the new distillery, but also to be a complete Uncle Nearest / Tennessee Whiskey experience. It is intended to go beyond merely being a distillery tour and gift shop, but rather an experience of everything local including a venue for events and weddings. The distillery and site is still being developed and will be ready in a few years but that didn't stop us touring the premises and seeing the quite bizarre Tennessee Walking Horses. The horses rear legs are longer than their front and so they wear special shoes which allows them to walk in a quite unusual fashion. This style is what they are judged on in competitions. We Finished up back in the visitors centre area with some signature Uncle Nearest cocktails and was at this point that Fawn shared with the BBS founders that they would be getting the pressing plates that were used for the "Nathan Green" single barrel edition that BBS obtained. Needless to say they were thrilled. It was a fantastic end to an amazing day. We learned so much about the history of Lynchburg and Tennessee whiskey and the fundamental role of Nathan 'Uncle Nearest' Green.
The day, however hadn't ended there – we were hungry and Fawn is a lady who can pull some strings. Although it was past the usual closing time, she managed to call ahead to get the best BBQ place in Lynchburg to stay open for us. We rolled into Barrel House BBQ slightly late, but they were no less welcoming. This is classic Tennessee BBQ and is featured as having one of the best grilled cheese sandwiches in the State. It's called "grilled cheese on crack" and it's basically a massive heap of pulled pork with a thin slice of grilled cheese on it. It was incredible and we all left super satisfied. We retired back to Tolley house to share a few whiskies and some stories of the day.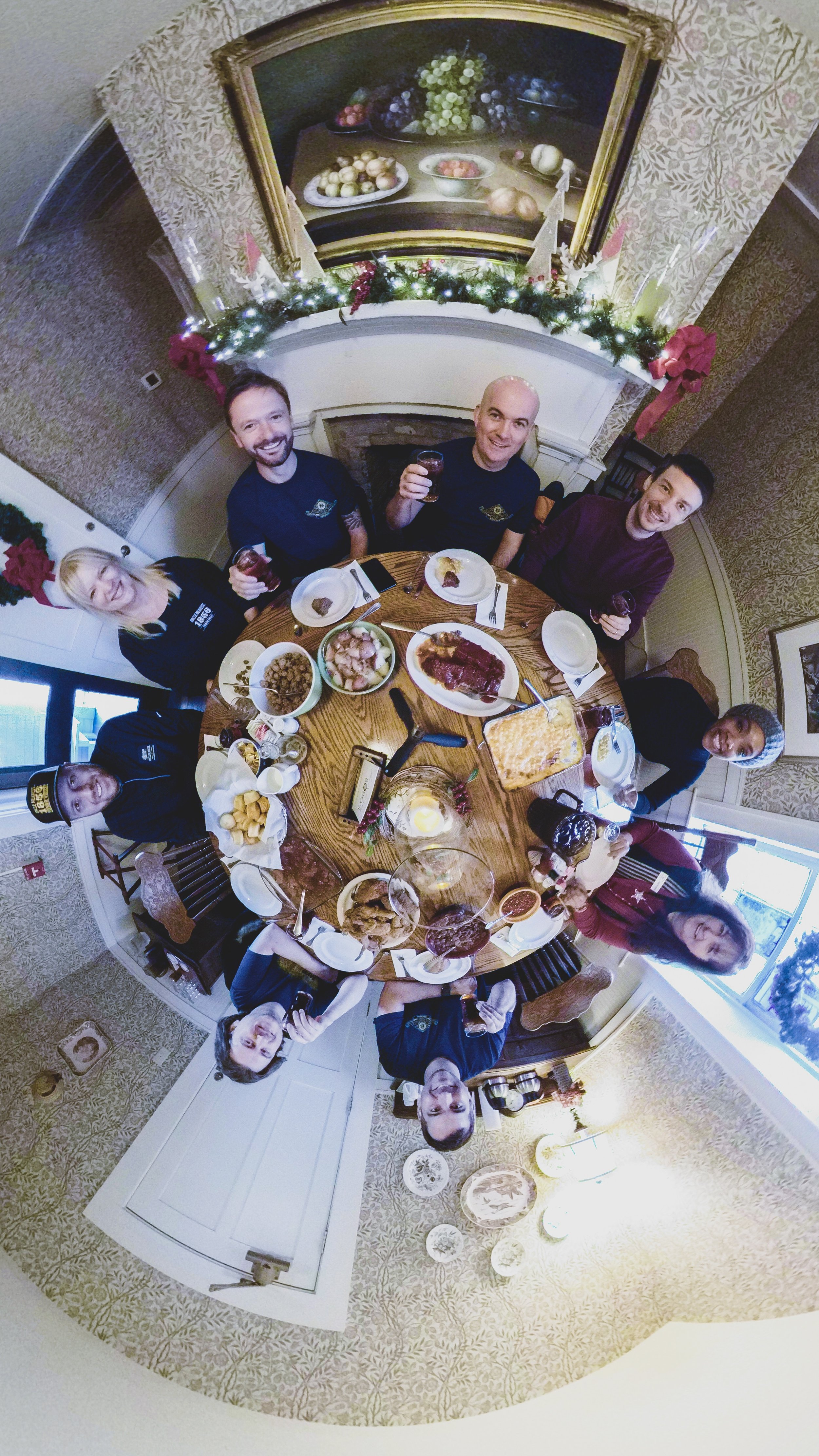 5 days in Tennessee with @unclenearest
Words by Chris Neville
Tuesday 13th November: The Founders Tour (Part 2)
And so, the last day of our trip to Tennessee. I woke refreshed and ready for the day ahead, having had an amazing night's sleep on the ridiculously huge bed in Tolley House. We got our stuff together and packed up ready for the day ahead.
Sherrie pulled up outside in the people carrier and off we went. We had two distillery trips planned, Dickel and Jack Daniel's. For me this would be my first trip to a working distillery of any kind so I was beyond excited. I know a couple of the guys have definitely visited distilleries in Scotland and maybe Ireland but they too were popping their American distillery cherries and the excitement was evident all round.
The George Dickel distillery is located in Cascade Hollow (or Cascade Holla if you don't want your accent to stand out), close to Tullahoma which was around 25 minutes' drive from where we were staying in Lynchburg. Lynchburg itself is quite sparsely populated and as we got closer to the distillery, we became surrounded by more and more greenery. The site is surrounded on both sides by beautiful, lush forests that rise up hills. We pulled in to the car park and decanted straight into the gift shop / visitor centre. I have to say that the range of merchandise on offer was very impressive. Dickel really manage to capture the spirit of Tennessee and the USA with their bold and bright designs. Their webstore has some of what we saw but the range inside the gift shop was much more expansive. After grabbing a bagel, we were greeted by our tour guide.
The distillery itself is on the opposite side of the road from the gift shop, you have to cross a bridge with a stream running underneath and are greeted with worrying signs alerting you of venomous snakes in the area. As you get closer, the aroma of freshly boiled grains fills your nostrils. The different shades of brick on various parts of the building suggests expansion over the years and the top layers of metal cladding surrounding the still and upper floors definitely shows a priority of functionality over style.
As we enter the building, we are led to the mash tuns where we are told that the grain is weighed and added by hand. There are two and they hold around 10,000 gallons each which is roughly 38,000 litres. It's then on to the 20,000 gallon capacity, open top fermentation vessels where it's fermented for several days until it's approximately 8% alcohol. It's then distilled in their three storey still ready for charcoal mellowing
Looking around, there is a noticeable lack of computer screens to be seen. Dickel are very much a distillery who still like to make their whiskey in a traditional way. The guys working in the distillery are friendly and happy to answer our questions but they work hard to bring us our whiskey. An example of this is how they charcoal mellow their distillate. The sugar maple is burned in on site and then apparently shovelled into bags by hand which are carried to the tanks by the workers. The tanks for the charcoal mellowing are huge, they are filled around 15 feet deep with the sugar maple charcoal and at the bottom is a perforated metal plate lined over with a woollen sheet. The distillate is then trickled through this which can take over a week to complete. They also chill the liquid at this point apparently because Dickel himself always preferred to do this process in the winter. After this point, the whiskey is ready to be proofed down and put into barrels.
We were then taken to their publicly accessible barrel store where we were allowed to take a couple of pictures. Their main warehouses and bottling lines are a little further away in the hills and not accessible to the public. We were told that most of the barrels are shipped over to Scotland when they are spent and re-used to age the parent company, Diageo's Scotch whiskies.
We were then taken through the range, trying the White Whisky, Number 8, Number 12, Barrel Select and Tabasco Finished. I was impressed with the clean taste of their white dog and I really enjoyed their Tabasco Finish. For me, it's a cool idea that works great as something to whack in a bloody Mary. The full-circle barrel concept where ex-tabasco-ex-bourbon barrels are reused is a novel idea. The actual Tennessee whiskey they make is solid and made me feel a little guilty for not having more on my shelf.
When I weighed up what I had seen regarding the old school methods still employed by the distillery, I was left wondering whether Diageo see Dickel more as a way of obtaining a good supply of barrels to age their Scotch rather than a valuable distillery in its own right. If so, that's pretty sad because they have a great distillery with a lot of heritage and a passionate workforce pumping out some really good juice.
I suppose we had got a little bit carried away with ourselves in the gift shop, especially Ed King who I think bought one of everything because we suddenly realised that we had to be over at Jack Daniel's for our tour in impossible time. Back to the people carrier it was.
We had our JD tour booked for around midday. A couple of days earlier, Fawn had arranged for the Master Distiller, Jeff Arnett to come and meet us while we were in town. I was quite in awe of the casual way Fawn had arranged that. It really showed how well she had built up Uncle Nearest's relationship with Jack Daniel's (more about that later) and I suspected that Sherrie, as ex Director of Operations at Jack Daniel's had played some part in that too. We travelled back the 20 or so miles from Tullahoma to Lynchburg and Sherrie pulled us into the car park.
Immediately the difference in the two distilleries was obvious, judging by the sheer scale of the place. In fact, I'm not sure we could have picked two more contrasting major distilleries had we deliberately tried to. We jumped out of the car and I hurried to the desk to confirm our booking. I think we were around 15 minutes late but they kindly gave us the option to join half way through or wait another 15 minutes for the next tour, which is what we chose to do. As I turned back to look around the visitor's centre and inspect some of the historic relics they had stored behind glass cases, I saw the wall they have dedicated to the memory of Nathan 'Nearest' Green and acknowledging that research and hard work that Fawn has put into preserving his memory.
Such is the scale of the Jack Daniel's distillery site that your tour begins with a bus ride, albeit a brief one. Our tour guide was Matt, a Lynchburg native who had spent some of his earlier life in other countries due to his dad's job in the military. Matt was quite new to the role but had done his time in the warehouse. He did a cracking job and was full of genuine enthusiasm and passion that made the tour even more enjoyable.
We started out at the yard where we were told just two guys, Darren and Tracey are responsible for making the charcoal used in their charcoal mellowing process and were shown a time-lapse video of it in action.
The tour focused also on the historical aspects of the distillery, taking us to the original spring where Jack Daniel got his water supply and also to his office which was still very well preserved and includes the infamous safe that allegedly led to his death (he kicked it and got gangrene). We saw historic fire engines including a pristine REO Speedwagon that belonged to the distillery from around a century ago. Despite the grand scale of it all, there is a rustic feel to this distillery, which is amplified by the red bricks of the main building and the stream from the spring running through the site.
Whilst Matt was a very knowledgeable guide, it was amazing to be taking this tour with Sherrie who had work experience in many aspects of the distillery operations stretching back quite some time. Sherrie would casually point out family members on some of the historic photos hung on the walls. It really showed the rich whiskey history that Sherrie has but also the fact that Jack Daniels has always been very much a family-oriented business which I think is amazing. As we passed Jeff Arnett's office, Sherrie gave him a wave and he came out to greet his long-time friend and ex-colleague.
We were taken to inspect the fermenting vessels and Matt encouraged us to get an up-close whiff of the aroma, warning us that the CO2 could have a powerful effect on our noses. I got a bit too close and my eyes were watering. It felt as though I'd eaten a large lump of English mustard. We were taken through to see the charcoal mellowing vats that were again, much larger than those in the Dickel distillery. From then it was on to the still and this was where the investment in technology was more prevalent in comparison to Dickel. Of course, by making the same type of whiskey as Dickel, the processes were very similar but on much larger scale. Whereas Dickel would rely on their experience for their fermentation process, Jack Daniel's would mitigate risk by having a large control room with monitors and automated controls ready to make necessary adjustments at the drop of a hat.
We went through to their bottling line where workers were hand labelling their single barrel whiskey and then through to the tasting room. As part of the Angel's Share Tour, we were tasting their premium range. My personal favourite was their barrel proof offering which I think holds up against any other cask strength whiskey in the same price range. I remember tons of brown sugar on the finish which I was surprised and delighted to get from a whiskey in a range where I normally have banana as the dominant note.
After the tasting, we were escorted across over to the Motlow House building to meet Jeff Arnett. To have the opportunity to talk whiskey with Jeff was an unreal experience. Here we had the Master Distiller of the world's biggest whiskey brand ready to answer any questions we had and we had a fair few. Jeff talked about his history working for Jack Daniel's, working with Sherrie and gave us some insight into the operational workings. It's fair to say that Jeff has been responsible for the biggest range expansion in the brand's history and he talked about how he likes to encourage a culture of experimentation and exploration. This was backed up by some of the offerings they had in the gift shop which included things like smoked hickory Jack Daniels for example. As for the age-old JD question that seems to pop up in BBS more than any other, Jeff said he saw Tennessee whiskey as a sub-category of bourbon so that puts that one to bed as far as I am concerned! Eventually we thanked Jeff for his time and made our way back to the vehicle.
We met up with Fawn at the main square in Lynchburg and rolled into a pizza restaurant for a last chance of sustenance. Time was turning against us and as we calculated how long it would take us to get to Nashville airport, check in and board, we decided to get back in the cars and make our way there. We pulled up outside the airport, grabbed our bags and said our goodbyes to Fawn and Sherrie.
We've been back home for a few months now but the trip gifted us all with fond memories I'm sure we will never forget. As we've split the writing duties up, I've not seen what the other guys have wrote but I'm sure they would all agree that the hospitality we were shown throughout our trip was overwhelming. It's clear that the team Uncle Nearest have recruited are the very best around. Their knowledge and passion is second to none and this shone through in how our itinerary was managed. Everything was perfect. Thanks very much to Fawn, Keith, Sherrie, Richie, Steven, Clay, Jared, Ashton and everyone else that made our time in Tennessee so special and to my British Bourbon brothers who I shared this amazing experience, cheers!